They will indeed be tormented forever; however they are not humans. Jesus says Gehenna (hell) was specifically made for Satan and demons (Matthew 25:41), however fire does not affect angelic beings like humans. (see Ezekiel 10:7). Additionally, the word "tormented" here is the same Greek word that speaks of Lot being tormented in 2 Peter 2:8 watching the bad behavior of the Sodomites. The same Greek word is used for both Lot and Satan being tormented. Also, John himself tells us where the beast comes from "the beast that ascendeth out of the bottomless pit" (Revelation 11:7) This "beast" is not a human being. Humans do not come out of this pit. The apostle John wants us to know this beast is a demon by telling us his origins....
Read More
Yes, they will indeed have "no rest," but when will this happen? It will be during the tribulation period while on this earth. It is important to note that in the previous verse, John wrote in the Greek future tense and refers to the Great White Throne Judgment where the lost will be tormented "in the presence of the holy angels, and in the presence of the Lamb" on Judgment Day. This is a future event for John. The Greek tense is in the future. In this verse, John changes tenses. It is in the Greek present tense. This cannot be stressed enough. In his literal translation of the scriptures, Robert Young, compiler of the Analytical Concordance that bears his name, translates it into a perfect English translation-as John wrote it: "And...
Read More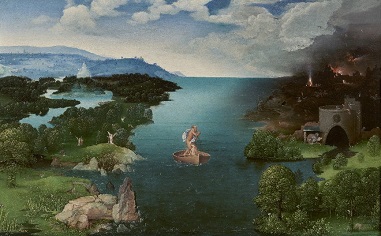 First let's look at what the text actually says…Revelation 14:10-11 is about a specific group of people at "the end times." It is about people who take the mark of the beast during what many call The Great Tribulation. John tells us of the day they meet God–Judgment Day. The same shall drink of the wine of the wrath of God, which is poured out without mixture into the cup of his indignation; and he shall be tormented with fire and brimstone in the presence of the holy angels, and in the presence of the Lamb: And the smoke of their torment ascendeth up for ever and ever: (Revelation 14:10-11) It is very important to notice where they are. They are "in the presence of the holy angels and in the presence of the Lamb." This is...
Read More